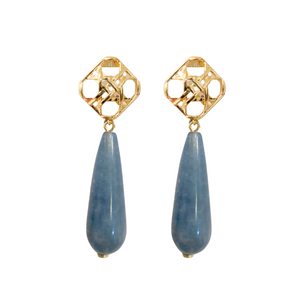 The Avignon earring is inspired by the intricately woven cane wicker detail often seen in french antique furnishings.  
Youthful and sophisticated, the Avignon Wicker earrings bring a fresh and modern perspective to this antique design. With a nod to the enduring richness of the French countryside and a touch of whimsy, these earrings are sure to become a favorite in your collection! 
18k gold plated brass with sky blue jade drops. 
Nickel Free
Approximately 2 1/8"